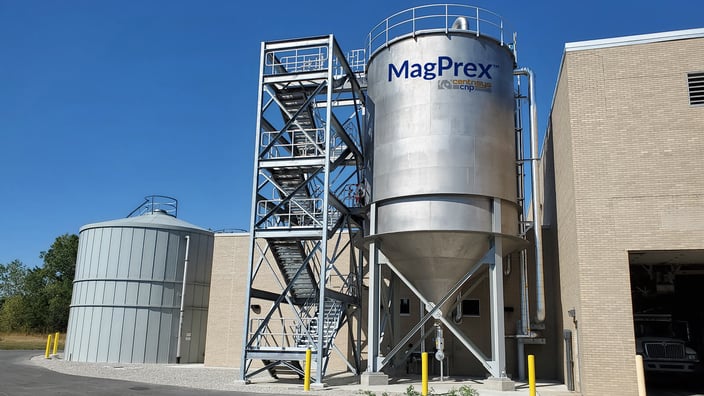 Fox River Water Reclamation District
Location: Elgin, Illinois
Plant Size: 25 MGD
Process: MagPrex™
Installation: 2021
[DATA UPDATE] MagPrex at FWRD:
1) REMOVES 95-98% of orthophosphates
2) MEETS local phosphorus regulations
3) AVOIDS struvite-related maintenance
4) OPTIMIZES dewaterability

To meet stringent phosphorus regulations and mitigate struvite-related O&M problems, FWRD worked with Black & Veatch to design a biological phosphorus removal (BPR) system using MagPrex for phosphorus sequestration in two plants 1) North WRF and 2) ADP WRF. With the recent bio-P process start-up, MagPrex receives around 450 mg/L of orthophosphate and achieves a 95-98% removal efficiency.

FWRD is the fifth U.S. MagPrex installation with three systems currently in the works. MagPrex demonstrates removal efficiencies above 90%... SIGNIFICANTLY reducing plant maintenance, P-recycling and REDUCING dewatering and hauling costs.

Thanks to B&V and FWRD for their cooperation during this project.

How can Centrisys/CNP help your plant meet your long-term phosphorus limits and mitigate struvite-related challenges? Discover more.