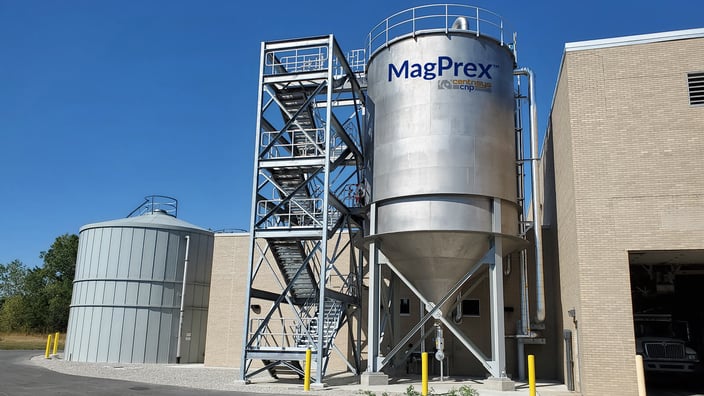 Location: Fox River Water Reclamation District | Elgin, Illinois
Plant Size: 25 MGD
Process: MagPrex™
Installation: 2021
[DATA UPDATE] MagPrex at FWRD:
1) REMOVES 95-98% of orthophosphates
2) MEETS local phosphorus regulations
3) AVOIDS struvite-related maintenance
4) OPTIMIZES dewaterability
PROBLEM
The Fox River Water Reclamation District (FRWRD) needed to comply with stringent National Pollutant Discharge Elimination System (NPDES) mandates. These new environmental parameters called for a reduction of phosphorus discharges into the Fox River. To meet these requirements FRWRD would have to upgrade their facilities.

SOLUTION
FRWRD had Black and Veatch provide a comprehensive feasibility study of their three water reclamation facilities. Multiple nutrient removal processes were considered, ranging from chemical to biological nutrient removal processes. Biological Phosphorus Removal (Bio-P) was selected along with MagPrex, a system with the ability to precipitate residual phosphorus in the digested solids stream as struvite and substantially reduce soluble phosphorus in both the digested solids stream and the plant's effluent stream. MagPrex also demonstrated impressive results in previously conducted pilot tests.
RESULTS
Since the implementation of the new system in 2021, MagPrex consistently removes over 90 percent of orthophosphate in the digested solids stream, crucial for FRWRD to meet NPDES discharge limits. MagPrex enhances dewatering performance by 23 percent, increasing cake total solids from 13 percent to 16 percent, directly reducing biosolids hauling and disposal expenses. Ed Brown, Operations Superintendent at FRWRD, commended the system, emphasizing its role in maintaining exceptional dewatering performance.