What Cleaning Sequence to Use to Minimize Unnecessary Vibrations
There are two types of centrifuge cleaning modes for typical wastewater applications:
Auto Stop Wash Cycle
CIP (Clean in Place)
Cleaning or flushing a centrifuge is a simple but critical process. It's used to remove as many solids as possible from the bowl and the scroll after operation and/or before the next start-up. If the solids are left inside the bowl, they stick to the internal wall. This results in an unbalanced centrifuge. Simply put, you will hear louder than usual noise and vibrations will be more agitated.

A high vibration incident usually results in additional downtime to investigate and correct the root cause. Mechanical damage to the centrifuge is also a possibility. Do not underestimate the importance of properly cleaning your centrifuge.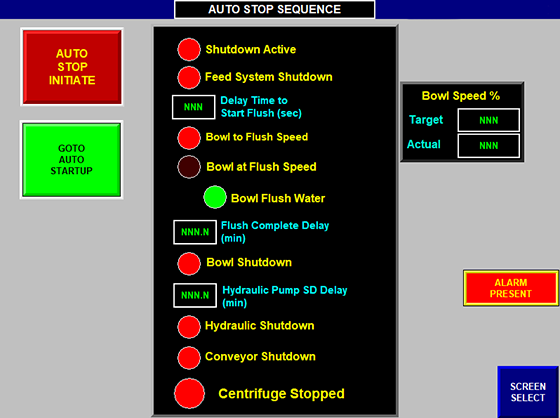 1) Auto Stop Wash Cycle is during a normal Auto Stop shutdown. It's a shorter wash cycle, initiated while the centrifuge is running and used when it will be down for a brief period of time. The auto-stop sequence begins one of two ways:

If a system shutdown alarm goes off, the centrifuge controls automatically begin the sequence
An operator manually starts the sequence from the auto-stop sequence screen
In the Auto Stop mode, the Feed System shuts down, stopping both the sludge and polymer pumps. After the sludge and polymer stop status is confirmed there will be a Delay Time (adjustable set point) before the feed flush solenoid valve opens. The scroll controller cleaning curve automatically locks into Curve #8.

The Bowl to Flush Speed will begin decelerating to the flushing speed set point, which is about 10% speed (adjustable set point). This Bowl at Flush Speed is maintained for a period of time; recommended length is 15-20 minutes (adjustable set point). Low speed is much more effective for cleaning solids out of a centrifuge.

When the flush timer is finished, the bowl flush valve will close and the Bowl Shutdown is initiated. The bowl starts to coast to a stop. When the bowl speed is less than 5% rpm, a Hydraulic Shutdown timer begins (adjustable set point). The hydraulics continue running until timer reaches 0 to further remove all residual solids. When the hydraulic shutdown timer times out, all running auxiliary equipment turns off and the Centrifuge Stopped indicator lights up. Auto Stop Flush is complete.

This wash cycle is sufficient for daily operation. It should be used for brief shut-downs for activities such as basic maintenance, inspections and general nighttime inactivity. The cleaning process time is plant adjustable, but a 15-20 minute cycle in typical wastewater applications is recommended.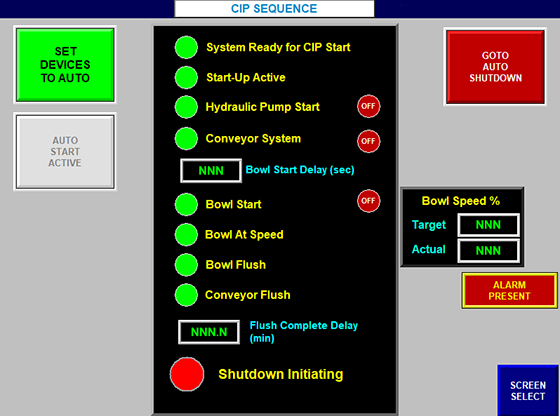 2) CIP (Clean in Place) is an automatic flush sequence that operates in a similar manner to the Auto Stop and Auto Start sequence, except the sludge and polymer feed do not turn on. It is an extra, low speed flush that's programmed as a separate sequence used when the centrifuge is not running.

To initiate a CIP, Set Devices To Auto. When the System Ready for CIP Start lights up, activate the CIP by pressing Auto Start Initiate. Start-Up Active lights up and the Auto Start Initiate button will disappear. Hydraulic Pump Start turns on, locking the curve to #8 for cleanout. If the centrifuge is equipped with a conveyor or Diverter Flush, they are activated.

Bowl Start delay beings the countdown (adjustable set point). When the delay reaches 0, the bowl starts and within 5% of target speed Bowl At Speed begins, maintaining the CIP speed for the flush set point and time (adjustable set point). After the flush is complete Shutdown Initiating lights up and the bowl coasts to stop, flush solenoids turn off and the Hydraulic Shutdown (adjustable set point) begins. When the timer reaches 0, all running auxiliary equipment turn off and the CIP is complete.

A CIP flush sequence should always be used in the following circumstances:

After an emergency (E-Stop) shutdown
After any alarm shutdown of the centrifuge
After a power outage
If excessive vibration occurs during startup
NOTE: The Auto-Stop Wash is not a replacement for CIP. If you are not 100% sure if your centrifuge will be down for only a brief period of time, run a CIP.

As always, make sure to follow your plants lockout and safety procedures before starting any centrifuge maintenance or repair procedure.