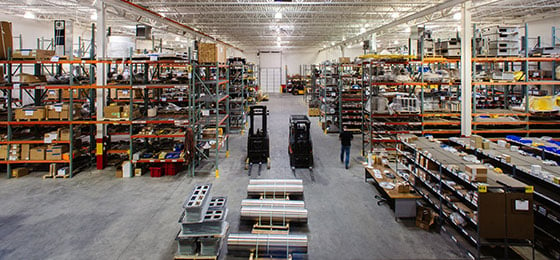 Operators at plants using decanter centrifuge technology understand the importance of equipment uptime and the urgency in circumstances when repairs and parts replacement are needed. Unfortunately, it's not uncommon to wait weeks, even months, to receive a centrifuge part for an urgent repair. The reasons for parts delays vary, depending on the brand, model, and age of a centrifuge, the spare part may need to be shipped from various parts of the world, is obsolete and no longer available, or out of the OEM's stocked inventory.

A critical and sometimes a forgotten detail for operating and maintaining a decanter centrifuge is establishing a partnership with a knowledgeable team of experts. The Centrisys team of centrifuge experts will act as a valuable resource, have an in-depth understanding of your equipment and process-specific requirements, and can source or manufacture centrifuge spare parts quickly.

Rebuilding equipment and remanufacturing spare parts is often a cost-effective alternative to replacement. These services are designed to restore your dewatering equipment to its original performance level or optimize your sludge process to make it work better.

Below, you will learn about four innovative ways Centrisys supports decanter centrifuge spare parts replacement and manufacturing.
1. SOLIDWORKS for Spare Parts Replacement and Centrifuge Repair
For over 30 years, Centrisys has integrated and expanded on innovative technology to support customers' spare parts replacement and repair needs. Dedicated mechanical engineers use SOLIDWORKS at Centrisys to analyze wear patterns on both the worn part and the centrifuge. This type of thorough analysis will optimize your process and extend the life of the centrifuge. The Centrisys service group works with our engineers, R&D, and customers to develop repair solutions for even the most complex centrifuge service requests.

What is SOLIDWORKS?
SOLIDWORKS is a computer-aided 3D design simulation software tool that allows engineers to create, recreate, simulate, publish, and manage products and data. The software is also used for stress analysis—this is important because it saves users time and money. There is no need to create a prototype (or several) to determine in real-life if the centrifuge part will stand up to the process needs of the centrifuge. SOLIDWORKS supports Centrisys' ability to manufacture, re-engineer, and replace decanter centrifuge parts efficiently and cost-effectively.
How does Centrisys use SOLIDWORKS to support customers' service and repair needs?
Centrisys provides service and repair for all brands of decanter centrifuges and keeps over $9M of repair parts in-stock. In circumstances where a part is discontinued or ships from overseas for replacement, the use of SOLIDWORKS provides Centrisys with the best solution to reverse engineer and re-manufacture - saving time and money for our customers.

One example is an old, worn discharge nozzle that can be recreated in SOLIDWORKS to design what it looked like before damage and then recreate it. Using 3D modeling, each element in the assembly is recreated from both a dimensional and materials perspective. The result produced meets or exceeds the engineering and manufacturing specs required. Centrisys will then use the SOLIDWORKS specs to manufacture the part at the Kenosha, Wisconsin facility.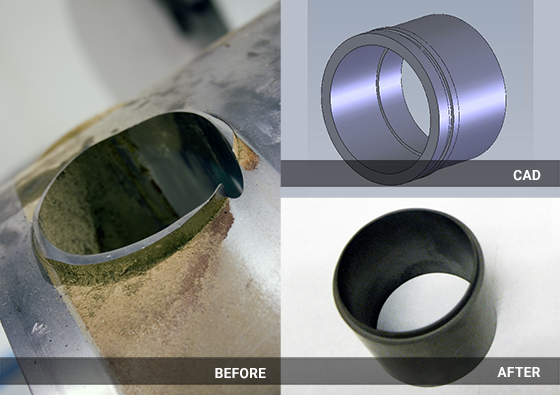 Additionally, Centrisys maintains a SOLIDWORKS parts design library. This library is a turn-key resource for all brands of decanter centrifuge parts designed and produced at Centrisys. It includes parts, components, and ancillary equipment from new, re-engineered, reverse engineered, and optimized for all makes, models, and years of decanter centrifuges.
Using SOLIDWORKS for Stress Testing
A failure of one part in a centrifuge may negatively impact other areas of the centrifuge. Here's an example, in the event a centrifuge's external (high-speed) bearings fail, causing the bowl to knock against the housing. This chain reaction can result in cutting grooves into the bowl. Using SOLIDWORKS, Centrisys measures the grooves' depth and then draws the damaged bowl with the reduced thickness caused by the grooves. Finite Element Analysis (FEA) is then used to determine if the weakened part is strong enough to withstand the necessary G-Force or if it should be replaced. Replacing a centrifuge bowl should be a last resort option.
2. Dedicated Parts Specialists and Mechanical Engineers
Having a team of spare parts experts to lean on in decanter centrifuge maintenance and repair may be one of the most important aspects of keeping a plant operating efficiently.

Centrisys' dedicated parts specialists are based in Kenosha, Wisconsin; Stockton, California; Plankstadt, Germany; Argentina; and Brazil. They offer parts quotes, answer customer questions, and offer specialized resources that ensure quick response time to deliver the critical parts needed.
With over the 34 years of centrifuge repair, Centrisys understands the importance of having a dedicated engineering team working with our service and repair department. This engineering team utilizes a combination of our manufacturing knowledge and what we have learned over the years in service and repair to manufacture and improve all brands of centrifuge replacement parts in-house.

The team's global network of parts supplies for centrifuge parts not in stock is another invaluable resource offered to customers. What isn't in the 20,000 square-foot parts distribution center can be acquired quickly through Centrisys' expansive network of suppliers.
3. 20,000 Square-Foot Parts Distribution Center
One of Centrisys' part replacement and repair services' most unique aspects may be the 20,000 square-foot parts distribution center. The facility houses over $9M of standard OEM decanter centrifuge parts, ancillary equipment, and other technical items to minimize centrifuge downtime, including:
Kluber grease
centrifuge bearings (ball, thrust, needle, cylindrical roll)
o-rings
sensors
cables
valves
feed nozzles
gaskets
feed pipes
centrifuge filters
centrifuge structural parts – rotors, frames and housing parts for all Centrisys centrifuges
machined assembly parts
lube and polymer system parts
For plants that need decanter centrifuge repair parts immediately, overnight delivery of in-stock centrifuge parts is an option, along with virtual consultation and service support.
4. Repair Outsourcing is Kept to a Minimum
By having the ability to repair most centrifuges, spare parts, and components in-house, Centrisys can closely control and monitor quality and repair schedules. Our in-house resources allow us to start a repair immediately, not having to wait until another service job is finished and moved out of the way.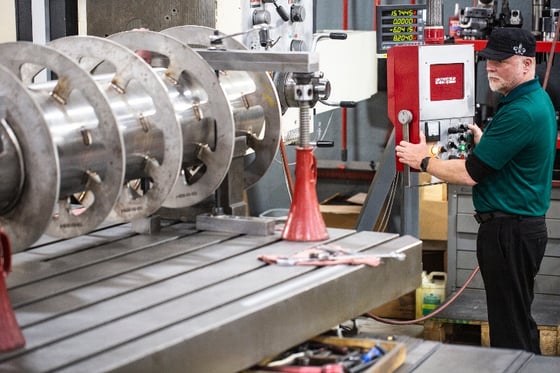 Our repair facilities are updated with the most current state-of-the-art equipment to machine, cut, drill, weld, and coat for 99% of centrifuge repairs in-house. Our full fabrication and machine shops include the most modern equipment to handle the largest centrifuges. As we've updated our facilities, details for repair services became a priority, including 20 cranes to lift even the heaviest centrifuge skid systems, enough amps of electrical service to test run any size centrifuge and two Schenck centrifuge balancers, including a first-of-its-kind centrifuge balancing bunker.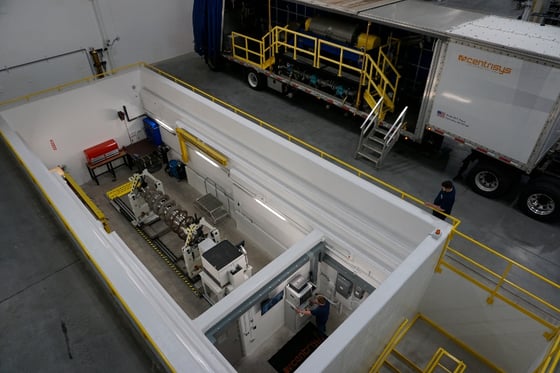 Schneck Process HM7U in our underground high-speed balancing bunker.
Our hydraulic repair specialists are the only factory trained Viscotherm AG hydraulic back drive technicians in North America.

A fourth Kenosha facility location (next door) was recently purchased to house our supplier partners, The Blast Shop and Accelerated Steel to increase capacity for blasting/powder coating, welding, and fabrication.

Who is your go-to team of decanter centrifuge service and repair experts? Learn more about how Centrisys can support your centrifuge repair, service, maintenance, and parts fulfillment needs.