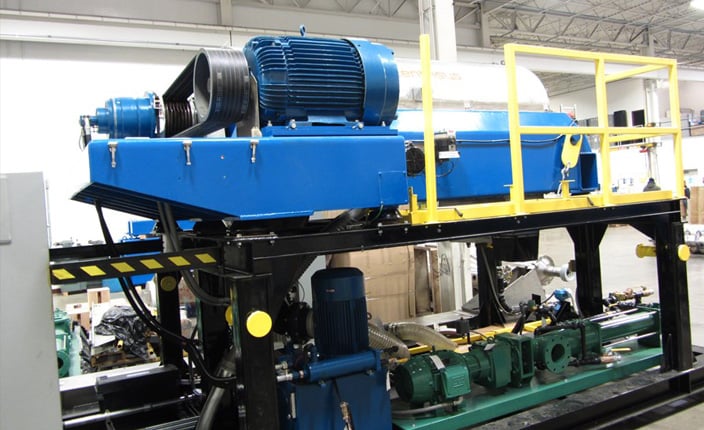 The Storm is Over - Now What?

Decanter Centrifuge Service Procedures - Get your centrifuge back up and running safely after a storm
Extreme weather can damage your decanter centrifuge in ways you can see and in ways you might not. Centrisys suggests the following important centrifuge service procedures for cleanup on and around your decanter centrifuge to safeguard the equipment and, most importantly, your operators.
Return safely to the centrifuge area. Conduct a site assessment with qualified personnel. Do not switch on electrical power or begin cleanup until qualified personnel have checked all utilities and evaluated all risks.
Remove all tarps from the centrifuge and control panel as soon as possible. Tarps trap moisture and cause condensation. It's important to dry out the equipment quickly (remember your storage areas).
Inspect for water in the following areas:

Check all oil reservoirs for moisture and contamination (gearboxes, lube, and hydraulic systems). Drastic temperature and humidity changes cause condensation, no matter how well sealed the components are. Do not start the centrifuge if water or moisture is present in the oil; drain and flush the water off immediately.
If the oil is milky in appearance, replace the oil before starting the centrifuge

Inspect areas around the equipment where water can collect. For example, check the control panel and junction boxes before powering up. All electrical areas around the centrifuge need to be completely dry before powering up.
If your treatment plant cannot start up the centrifuge for more than a week after the storm, turn the rotor by hand to prevent spots on the bearing (contact corrosion). Spots can lead to unnecessary noise and premature bearing failure.
Inspect all areas where water can collect. Check the control panel and junction boxes before powering up.

If the centrifuge, control panel, or critical components were submerged in water

do not operate

.

Inspect the solids conveyor to make sure it didn't move during the storm, and remains secure.

Inspect the cables and chains on the swing conveyors.

Inspect the electric motor. Because most motors have air inside of them, condensation can occur. Small holes are typically at the motor's bottom for condensate draining, but the bearings are vulnerable to rusting if exposed to water. *Grease and rotate the bearings frequently; purging grease from the bearings will push out the moisture.

If your centrifuge is being stored, repaired, or not running for a week or more due to the storm, it's important to turn the rotating assembly by hand to keep the bearing elements coated in lubricant. This simple procedure prevents spots and contact corrosion on the bearings. Spotting can lead to excessive noise, vibrations, and premature bearing failure.
Diagnose New, Unusual Centrifuge Sounds

Be hyper-aware of any new sounds from your centrifuge. If you hear any of the "not-normal" sounds below, take a look at the Centrisys service bulletin, How to Diagnose Decanter Centrifuge Sounds, for more information.
Rattling noises (this could be a loose part or metal-on-metal contact somewhere with the equipment).
Squeals (check the belts).
A loud, low-pitched rumble that comes and goes with differential speed changes.
A high-pitched whine or roaring; starts with the centrifuge running at a low speed and becomes progressively louder as the centrifuge accelerates.
An increased sound volume; does not change in pitch or intensity.
If centrifuge service or repair is needed, Centrisys is here to help. Call us for centrifuge repair service.Centrifuge rentals are available for temporary and emergency needs.